Vacherie Electrician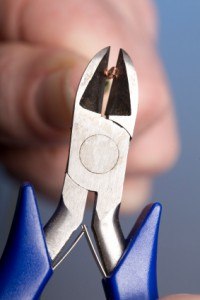 Are you looking for an electrical contractor for your home or business in the Vacherie area? Let Champion Star Service be your go-to Vacherie electrician!
Champion Star Service is the best choice when you need a reliable Vacherie electrician, and not just because we are an established locally owned and operated company known for doing good work. We are also licensed and insured Vacherie electricians. Getting a licensed and insured electrical contractor to take care of your electrical repairs and installation service requests in Vacherie is crucial! We can't stress this enough. Your safety and the quality of your property are at risk if you don't hire a qualified Vacherie electrician for the job! Just look at all the electrical fires that have taken place just this year – all because of shoddy electrical work and a lack of proper electrical repairs and maintenance.
Don't let your Vacherie home or business be the next to end up on the new. Let Champion Star Service take care of all your Vacherie electrical service needs today!
Thinking we won't answer your call in the middle of the night? Think again! Champion Star Service's Vacherie electricians are available to take emergency electrical service requests 24 hours a day. Call us today at 225-644-0400 to speak with a LIVE operator, and be on your way to receiving speedy, first class service from true professional Vacherie electricians – who are licensed, insured and trained experts!
Champion Star Service – we're on the way whenever you need us for electrical services in Vacherie!
Champion Star Service – Electrical Contractor in Vacherie, LA
When you lose power in Vacherie, who do you call? Well, if it's during the middle of a storm, you're probably just going to sit tight and waiting for it to blow over, right? But what if it's not? What if you randomly lose power in the middle of a nice, beautiful day in the Vacherie area?
First, you may call the power company. Are they working on anything in the Vacherie area that may have caused grid failure for your home or business? No? Well… now what?
Call Champion Star Service. We are the Vacherie electrical contractor that can make it right and restore power to your home.
Most often, if a home or business loses power and it's not caused by a power surge from a storm or construction in the Vacherie area, it's usually related to a short or overheating in the electrical system somewhere. Typically the service panel. At Champion Star Service, we have Vacherie electrical contractors traind and proficient at diagnosing problems like this. So when you call us, you can have peace of mind knowing that our electrical contractors in Vacherie will be able to answer your questions and provide you with solutions to your electrical problems QUICKLY. This can be especially important for businesses in the Vacherie area. That last thing you want to to slow down or interrupt business operations, right? Well, Champion Star Service can get you back up with power fast, so you can return to business as usual.
That's right – Champion Star Service provides BOTH residential and commercial electrical services! In fact, we're pretty amazing at both sectors. Just ask our recent customers! We have a stellar customer satisfaction rating among both homeowners and business owners in the Vacherie area.
So when you need an electrical contractor in Vacherie, LA 70090: call Champion Star Service at 225-644-0400. You'll be glad you did when you see how easily we get your electrical problems fixed!
Vacherie surge protection systems installed to protect your whole house and all the electrical devices therein will bring you a sense of security in knowing that any unseen power surges are addressed. Get peace of mind about your home and its' contents – invest in whole house surge protection systems from Champion Star Service in Vacherie, LA today.
Without a whole house surge protection system properly installed to protect all of your electrical devices (power strips don't cut it here), one rogue power surge could instantly do thousands of dollars worth of damage and render a lot of electronics and appliances useless. Talk about a hit to your wallet! Don't let this happen to your Vacherie area home or business when Champion Star Service, your Baton Rouge electrician, is just a phone call away.
In comparison, the amount you spend to protect your electronics and appliances with whole house surge protection systems in Vacherie far outweighs the cost of having to replace them – not to mention all the time and hassle it would take in dealing with insurance company as well as shopping for all new replacements.
If you are looking for a Vacherie electrician, please call us at 225-644-0400 or fill out our online request form.