The Baton Rouge Electrical Contractor for Property Closing Repairs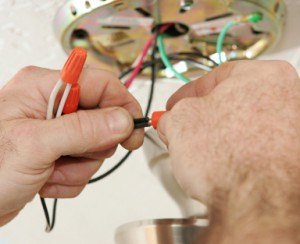 If you are closing on a property in Baton Rouge, contact the professional Baton Rouge electrical contractors at Champion Star Service to schedule service for any electrical repairs or upgrades you need completed to seal the deal.
As a reputable and professional Baton Rouge electrical contractor, we have years of experience providing thorough electrical inspections, electrical repairs, and electrical upgrades for real estate properties in Louisiana.
We can assist you with electrical repairs prior to your property closing. When you are closing on your Baton Rouge property, you want all of your electrical system components to be in proper running condition to ensure that no unwanted snags come up during the closing process.
At Champion Star Service, our property closing repairs range from simple outlet and switch replacement to electrical service upgrades. So whether you find that the property you are closing on requires a complete electrical rewiring or just has a few issues here and there that need to be repaired, you can rely on our electrical contractors to get the work done correctly and quickly the first time, so you can move on with the process and close on your home!
Property Closing Electrical Repairs in Baton Rouge
A lot of work goes into ensuring the electrical system for a home is in proper working order. This is why potential home buyers and sellers are strongly encouraged, even required in some cases, to invest in professional home inspections.
Not all property inspectors have the skill or knowledge to detect some electrical issues, however, which is why we recommend letting our professionally licensed electrical contractors perform an electrical safety inspection for your property as soon as possible. After a thorough electrical inspection, Champion Star Service will give you an honest evaluation on the condition of your property's electrical components.
Whether that entails "good" or "bad" news depends on your outlook and, of course, who is responsible for paying for the property closing repairs. Whatever the case may be, you can rely on our team of professional and licensed Baton Rouge electrical contractors for any electrical repairs or modifications necessary.
We have the skills, tools, and experience to quickly and properly perform a full range of residential electrical services, including rewiring, electrical panel upgrades, electrical repairs for faulty outlets and switches, lighting repairs, replacements and much more. Whatever issues pop up during your property closing inspection, we can fix it in a manner that helps you move along with this aspect of closing without delay, so call us now!
If you are looking for a Baton Rouge residential electrician for property closing repairs then please call 225-644-0400 or fill out our online request form.