Baton Rouge Ceiling Fans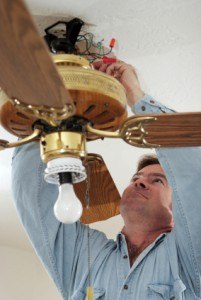 Ceiling fans make life in Baton Rouge much more comfortable on hot summer days by providing residents with an energy efficient solution to daily cooling needs. When your Baton Rouge ceiling fans need installation or repairs, call Champion Star Service, the electrical company you can rely on all day and night for top quality electrical services and upfront pricing.
Our electricians are skilled professionals that install and repair all makes and models of ceiling fans for Baton Rouge homeowners. We know how uncomfortable it can be to be without this simple – and often neglected – luxury, especially on hot summer days.
So we work diligently and efficiently to return your home to a comfortable status by ensuring your ceiling fans are fixed promptly and correctly. You don't have to worry about quick fixes or shoddy work from our electricians either!
When we fix your ceiling fans, we guarantee the work we do for a whole year! So if you have problems with the same ceiling fan before a year is up from the time our electricians fixed it the first time, Champion Star Service will come back out to fix it again – for FREE.
We do this to ensure your satisfaction with our company as well as to uphold our stellar reputation in the Baton Rouge community as a reliable electrical contractor. Not to mention, we just care about making things right. That's the Champion way!
Baton Rouge Ceiling Fans Work to Keep You Cool
Be sure to contact us to take care of all your Baton Rouge ceiling fans. You can't go wrong by choosing Champion Star Service for electrical services such as these:
Ceiling Fan Installation
Ceiling Fan Repair
Ceiling Fan Replacement
We also have a variety of ceiling fans available for purchase, so if you are in the market for a new, energy efficient comfort solution for your home in Baton Rouge, give us a call at 225-644-0400 to learn more about the wonderful ceiling fans we have in stock. We can also make recommendations for getting the best ceiling fans on the market.