Welcome to Champion Star Service: a Denham Springs Electrician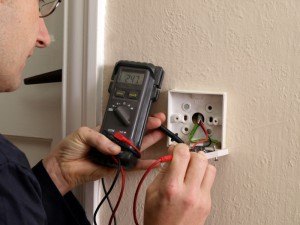 Champion Star Service is a Denham Springs electrician. We provide electrical repairs, surge protection, home generators, lighting installation and much more for both residents and businesses in the Denham Springs, LA area.
We provide electrical services to the following zip codes in the Denham Spring, LA area: 70706, 70726, and 70727. If you are a resident or business located in these areas of Denham Spring, LA, or anywhere around the Baton Rouge metro, please call Champion Star Service for all your electrical service needs.
The Reliable Electrical Company in Denham Springs, LA
Champion Star Service is the Denham Springs electrical company you can rely on to be there for you whenever you need electrical work done in your home or business. That's because we are a reliable electrical company in Denham Springs, LA that provides 24 hour emergency service. So day or night, weekend or holiday or typical weekday hours – whenever you need Champion Star Service, our locally owned and operated electrical company in Denham Springs, LA will be there to answer your call.
Our Denham Springs electrical company offers:
Live operators to answer your call 24/7
A complete range of electrical services, including electrical repairs and new construction installation
The highest rated electrical products – such as home generators from GE – on the market
Denham Springs electricians for all types of electrical work, large and small in scope
Residential and Commercial electrical services from competent electricians in Denham Springs, LA
Guarantees on all our electrical work good for a whole year
A Standard, Upfront Pricing Guide for our Pay-by-the-Job Services (which means all of them!)
Licensed, insured, and highly trained Denham Springs electricians for all your electrical services requests
Denham Springs Electrical Repairs
There are many elements to getting an electrical problem corrected in Denham Springs, LA. Not the least of which is to ensure that the job is done correctly by a professional Denham Springs electrician. By this, we mean the most important thing to consider is safety.
In most cases, a professional Denham Springs electrician will ensure that the proper safety steps are taken over the course of a job. There are some Denham Springs electrical repairs and fixes that an average home owner can take care of easily enough; however please remember that electricity, in any volume, is very dangerous. Do not put yourself at risk just to save a little money if you don't know exactly what you are doing when it comes to Denham Springs electrical repairs. This could end up a fatal mistake – for you or your family.
Electrical safety is our top priority next to customer satisfaction here at Champion Star Service, your Denham Springs electrical repairs experts. Let us handle your electrical problems and keep your family save.
Tips for Hiring and Negotiating with a Denham Springs Electrician
Finding and hiring a Denham Springs electrician to do or fix the electrical wiring in your home is not as simple as flipping through the phone book. Many times, homeowners rush into hiring an electrician without doing any background check. They want to get started as soon as possible, and in the process they end up wasting money on an electrician who do shoddy work or charge way too much. If you want an electrician who is good and dependable, not to mention charge a competitive price, you will need to spend some time doing your research. So how exactly do you pick the right electrician? Below are some things you can keep in mind when you are looking for a good Denham Springs electrician.
Remember that Denham Springs electricians are professionals who have undergone training in electrical work.
Go with a Denham Springs electrician with years of experience in electrical work.
Ask a Denham Springs electrician for a quotation and a report on how he will carry out the electrical job you need done on your home.
Ask your Champion Star Service Denham Springs electrician to give you a detailed material and labor price sheet. Agree on the figure in this price sheet before starting the job.
Try to get the Baton Rouge electrician to give you a "hard date" for completing the job, and put this in writing.