Baton Rouge Ceiling Fan Installation – Adding Comfort to Your Home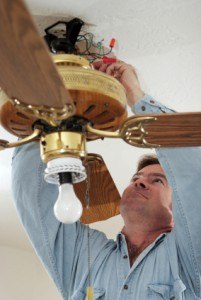 Working to achieve maximum home comfort is always an effort worth the money you spend. There are many things that bring comfort to one's home. Primarily, one of these things is air coolers. These appliances come in a variety of purposes, once that produce: cool air, some that also function as heaters etc. These specific appliances make the overall house ventilation better. An example of this particular type of appliance is the electric fan. There are many different kinds of electric fans. There are wall fans, standing fans, and ceiling fans. In a house with very little available space, perhaps, the most practical kind of fan one could install is the ceiling fan. Baton Rouge ceiling fan installation is an important part of wise home improvement. When it gets really hot and one would want to conserve energy by avoiding the air-conditioning system, one could just resort to using the practical and effective ceiling fan.
There are many different types of ceiling fan specifically fit for home improvement. Basically, there are ceiling fans for babies, compact space ceiling fans, decorative ceiling fans, kitchen ceiling fans, pedestal fans, remote ceiling fans, traditional ceiling fans, and water ceiling fans. Of course, before you get one installed by a professional, you need to know exactly what you need. Knowing this would allow the contractor to ascertain what the job would entail.
Types of Ceiling Fans
Decorative ceiling fans are usually designed with specific styles fit for the owner's fancy. Kitchen ceiling fans are designed to bring comfort to people cooking by hot stoves. Its specific strength and design are particularly fit to cope with the activities in the kitchen. Pedestal ceiling fans are specifically designed to not eat up too much space but deliver maximum air comfort. Its primary feature is that it has a stand for versatility when it comes to positioning. Remote ceiling fans are designed so owners need not exert extra effort in managing them. Without standing up, owners can control these ceiling fans. Traditional ceiling fans are designed to espouse a mood of relaxation. Basically, these fans are intended to be simple and highly functional. Water ceiling fans are designed to adapt to humid environments. Little do people know that excessive rain and occasional snowing destroy the common ceiling fan; usually their wooden blades thus the reason for water ceiling fans.
Baton Rouge ceiling fan installation is not an easy task. This is why experts are needed to perform this specific installation. So if you're thinking about ceiling fan installation in your home, you need to contact a local Baton Rouge electrician and talk to them about what you need.