Are Your Ceiling Fans Working Properly?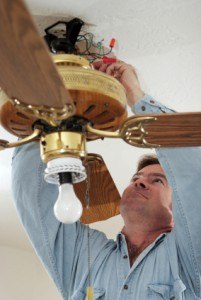 You probably own at least two ceiling fans in your Baton Rouge home, so you're familiar with ceiling fan complications. Problems with your ceiling fans are easy to detect but hard to troubleshoot, so hiring an experienced electrical contractor for ceiling fan repairs is a good idea. The main components of typical ceiling fan models include the mounting device, blades, and electric motor and housing.
Common Ceiling Fan Problems
Ceiling Fan Doesn't Work – Your ceiling fan can stop working because of multiple complications with your electrical system. The circuit breaker can trip, a wire connection can be faulty, a ceiling fan model can be defective, or a reverse switch can be in the neutral position. An electrical contractorcan work with you to determine the cause of your ceiling fan malfunction.
Ceiling Fan Is Making Noise – If your ceiling fan is making an unusual noise, it may require an adjustment. Cracked or unbalanced fan blades, rattling wire connections, and loose screws can also cause strange ceiling fan noises.
Speed Settings Aren't Working – If you notice an abrupt change in air circulation, your speed settings may not work, but your electrical contractorcan clean and lubricate the ball bearings and replace the ceiling fan capacitor. The motor should be replaced if the motor gets hot while the fan is on. A fan stuck at a low speed is usually caused by a damaged pull cord, and a fan stuck at a high speed is likely a capacitor problem.
Ceiling Fan and Light Kit Turns On and Off – Faulty wire connections and a malfunctioning circuit breaker can make your ceiling fan or light kit turn on and off suddenly.
Ceiling Fan Is Wobbly – A wobbly ceiling fan is bothersome and disconcerting. The wobbling can be caused by dusty or warped blades, loose screws, and bent blade brackets. Correct the wobbliness by dusting the fan blades, stabilizing the mounting device, and tightening any loose screws.
Pull Cord Is Broken – Your ceiling fan's setting will get stuck if the pull cord breaks, but many ceiling fan types can be fixed by replacing the cord switch unit. Before repairing or replacing a damaged pull cord, turn off your circuit breaker.
Ceiling Fan Doesn't Reverse – A ceiling fan that won't reverse is likely caused by a reversal switch that is either worn out or in neutral. You may also have to turn off the fan and wait for the blades to stop before flipping the reversal switch.
If a ceiling fan in your Baton Rouge home isn't working properly and you can't figure out why, contact Champion Star Service, a trusted electrical contractor.