Your Baton Rouge Hot Tub Wiring & Hook Ups Contractor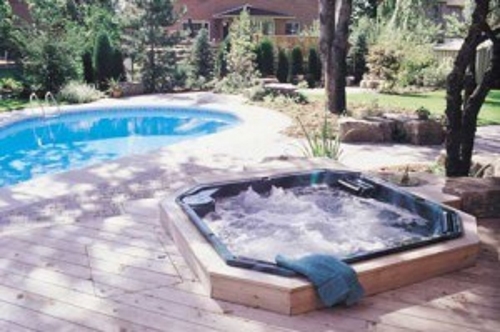 If you have purchased a new hot tub, Champion Star Service is the Baton Rouge electrician you can rely on for speedy hot tub wiring and hooks ups so you can start enjoying your new purchase as soon as possible! Our Baton Rouge hot tub wiring and hook up specialists work diligently to help our clients setup new hot tubs so that they work properly and provide lasting enjoyment for those taking part in this wonderful product that easily enhances any outdoor experience – year round!
Having a hot tub in Baton Rouge is like having a year-round vacation in your own backyard. It is a place to escape the cares of the day and spend some quiet time alone or with family and friends.
Whether it's just you or family and friends using your hot tub, you want to be sure that it is installed correctly, especially where the electrical wiring is concerned.
By hiring a qualified Baton Rouge electrician from Champion Star Service to connect your hot tub, you are assured the electrical wiring will meets current electrical safety standards. That's because our electricians are not only hot tub installation experts, but licensed, bonded and insured, and obtain all the required permits to get started on your project.
Electrical Safety & Hot Tub Wiring in Baton Rouge
If you purchase a hot tub in Baton Rouge or currently have one installed that needs electrical repairs, please contact a professional and licensed Baton Rouge electrician for service. DIY hot tub troubleshooting, especially where the electrical components are concerned, can be incredibly dangerous! A wrong move could do more than ruin that expensive new luxury item of yours – it could endanger your life.
So when your hot tub starts acting up, or you get home with a brand new hot tub and are getting ready to set it up, be sure to take a step back, pick up the phone, and dial 225-644-0400 to schedule service with a Baton Rouge hot tub wiring installation and repair specialist at Champion Star Service first. Our technicians will get the job done quickly AND safely, so you don't have to delay or worry when it comes to getting full enjoyment out of your hot tub.